PT300 Smart Pressure Switch
PT300 Smart Pressure Switch
Measuring Range: -0.1~0-0.02~100MPa
Measurement Accuracy: ≤±0.25%、0.5%FS
Stability: ≤0.2% /year
Power supply: 15~36V.DC
Output form: 2 switch quantity(PNP/NPN)+4~20mA

Descripton

Selection Guide

Precautions
Description:
The PT300 intelligent pressure switch is an intelligent digital display pressure measurement and control product integrating pressure measurement, display, and output control. The product is a fully electronic structure, which measures and controls the pressure of the control system. The intelligent pressure switch is flexible to use, simple to operate, easy to debug, safe and reliable. Widely used in hydropower, tap water, petroleum, chemical, machinery, hydraulic and other industries to measure, display and control the pressure of fluid media
Parameter

Parameter Value

Parameter

Parameter Value

Measuring Range

-0.1~0-0.02~100MPa

Measurement Accuracy

≤±0.25%、0.5%FS

Stability

≤0.2% /year

Display Method

4-digit digital tube unit display

Type of pressure

Gauge pressure, absolute pressure, sealed gauge pressure

Display range

-1999~9999

Overload capacity

1.5times full scale

Maximum power consumption

≤1W

Power supply

15~36V.DC

PL

IP65

Switch load capacity

<1.2A(24V.DC)

Output form

2 switch quantity(PNP/NPN)+4~20mA

Load resistance

≤(U-12)/0.02Ω

Switch life

>10years

Response time

≤5ms

Medium temperature

-40℃~85℃

Ambient temperature

-40℃~70℃

Relative temperature

0~95%

Storage temperature

-20℃~60℃

Temperature effect

Within the specific working temperature,the output change≤±0.05% of the range for every 10℃ change in the ambient temperature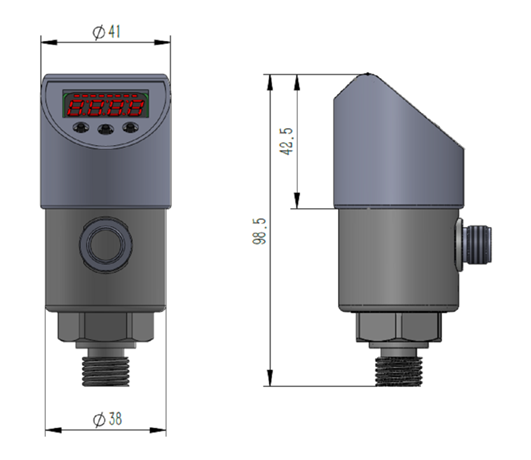 SeriesGuide
PT300
-
X
-
X
X
-
X
-
X
-
X
-
X
Pressure Category
Gauge
G
Absolute Pressure
A
Pressure Category
bar
B
MPa
M
kPa
K
Pressure range
Pressure Range Value x
X
Process Connection
G1/4
G1/4
1/4NPT
1/4NPT
G1/2
G1/2
M20×1.5
M20
R1/4
R1/4
R1/2
R1/2
1/2NPT
1/2NPT
Output Signal
1 channel PNP+4-20mA output
H1
2 channel PNP output
H2
2 channel PNP+4-20mA output
H3
1 channel NPN+4-20mA output
H4
2 channel NPN output
H5
2 channel NPN+4-20mA output
H6
Accuracy Class
0.5%FS
--
0.25%FS
2A
Special Requirement
Please consult for other special requirements
…
1)When installing the connecting cable, the power supply 24VDC to the instrument should be separated from the electrical cable, and try to avoid parallel wiring at close distances.

2)Based on the anti-interference principle of digital circuit AD sampling, we solemnly remind users that the alarm speed of the switch is not as fast as possible. The choice of the alarm speed should be based on the need, in the balance between speed and stability. When the alarm speed is selected quickly, accidental fluctuations in the pressure signal or accidental interference burrs on the power supply may cause frequent alarms after being collected by the digital circuit. When the alarm speed is selected relatively slowly, the digital circuit can have sufficient time to correct The signal is subjected to interference removal filtering, and the stability can be greatly improved.

Operation:
1、
The user can put into operation without any adjustment of pressure switch.Before operation, check whether the installation and electrical connection are correct, turn on the power and put it into operation.
2、 The pressure switch can work when the power is turned on, and the output signal is stable and reliable.
Maintenance:
The pressure switch is a high-precision measuring instrument. In daily maintenance, check whether the cable sheath is aging and cracked, and whether there is water ingress. If the pressure hole is blocked or the diaphragm is fouled, please clean it with a solvent compatible with the material of the pressure switch structure. Do not use a wire to poke the pressure hole or brush the diaphragm.
Feedback form contact with us
If you have any quesiton of this product or would like more sensor choices, email us through below contact form.Our sales engineer will reply you within 24 hours.
Related Product