PT230 flow air hvac differential micro pressure transmitter
PT230 flow air hvac differential micro pressure transmitter
Pressure Range: 0~100kPa to 0~10MPa ;
Accuracy: 0.25%F.S/0.5%F.S/0.1%F.S ;
Signal ouput: 4~20mA,0~10V,0~5V,0~20mA;
Temp.:-20~85 ℃ ;
Protection: IP65;


Compact design
High cost performance
Wide measuring range
Optional field display



flow measurement
Filter monitoring
Hydraulic and pneumatic system
machine manufacture
PT230 series differential pressure transmitter is assembled with diffused silicon differential pressure core,The whole product is of all stainless steel structure,The two pressure interfaces are directly installed on the measuring pipeline or connected through the pressure pipe. Compact design makes it suitable for equipment matching, machinery manufacturing and other applications with narrow space, complete equipment design, etc. Suitable for differential pressure measurement of various gases and liquids.
Pressure range

0~100kPa to 0~10MPa

Type of pressure

manometer pressure

measurement accuracy

Class 0.5, class 0.25

Behaviour of electricity

Two wire system

Three-wire system 0 ~ 10v

Three-wire system

Output signal

(4~20)mA

(0~10)V

(0~5)V

Power supply

9~36Vdc

15~36Vdc

12~36Vdc

Insulance

500MΩ 100Vdc

Overload pressure

Twice the rated pressure

Bidirectional static pressure

5 times rated pressure

Working temperature

(-20~85)℃

the protection grades

IP65

Long term stability

0.2%FS/year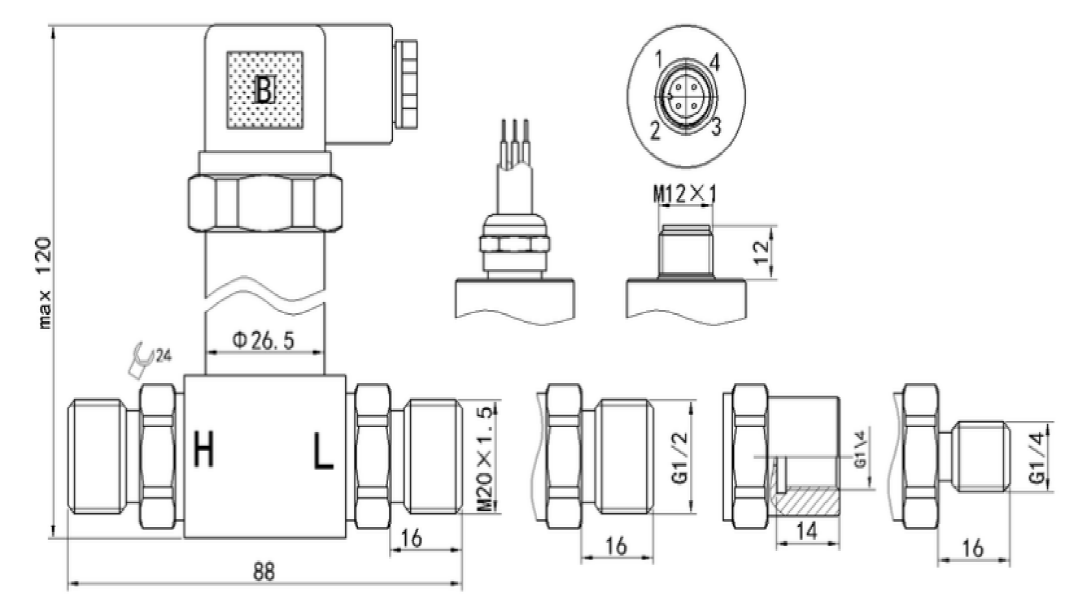 Feedback form contact with us
If you have any quesiton of this product or would like more sensor choices, email us through below contact form.Our sales engineer will reply you within 24 hours.